Is Foucault dangerous for anthropology?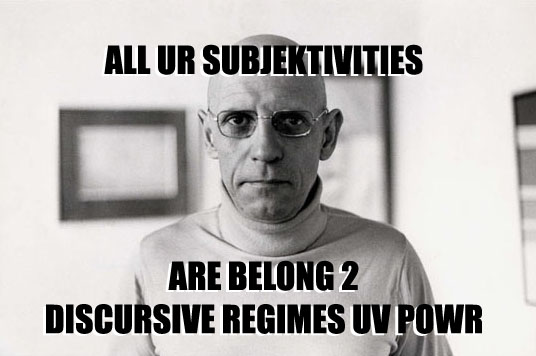 I readily admit that the title is annoyingly provocative on purpose. Part of the reason is because I want to draw people's attention where it's nearly impossible to focus attention; on the internet, on tumblr. 
However it is a genuine question, and one which I not only direct towards Foucault but towards the traditional triad of the theoreticians of suspicion: Freud, Nietzsche and Marx.
I think many of us are aware of their influence on anthropology, especially Marx, who spawned an entire movement of so-called Marxist anthropology from France in the 1960s. I pick on Foucault merely because a great deal of attention is still being paid to him and his influence on anthropology is not only still felt but still being examined, but also producing very fruitful anthropology. (See Talal Asad for example)
My question is (and this blog is fundamentally merely a question and the question itself has room for it to be refined and expanded): How dangerous is it adopting an attitude of 'suspicion' in anthropology? Is it dangerous at all? How can it help anthropologists if the risk is worth taking? What are the risks?
Why would I ask such questions, especially when considering how fruitful anthropology inspired by Foucault has been. Firstly I should say that asking these questions is not tantamount to banning Foucault from anthropology. In no case would I suggest something even remotely so ignorant. These questions are not even a word of caution for anthropologists and students who would choose to apply Foucauldian methods to their anthropology.
Perhaps I merely use Foucault to express some of the fundamental ethical concerns of anthropology and concerns which I have expressed repeatedly throughout this blog.
In taking the Foucaldian notion of discourse, if discourse is to be defined as the implicit, the unspoken, that which we are unaware of yet nevertheless express and  if Foucauldian anthropologists are trained in recognising and perhaps dismantling these discourses, what danger is there in placing the anthropologist in a hierarchical relationship with the Other 'that is being studied', to put it crudely. To put it more simply, it yet again produces the anthropologist that can see far more than the locals can. If knowledge is power than anthropologists are always far more powerful than the people they study, irrelevant of whether they are disenfranchised groups such as peasants or corporate businesspeople. 
Naturally, an examination of discourse can be directed towards the discourse of anthropologists themselves. We can become infinitely refined if we examine our own discourses. Still, I think it is an obvious fact that a great deal of the anthropology of discourses sifts through emic rather than etic discourses. This is something I have done myself in my own assignments. And you can see that a great deal of anthropologists, my student self included, take pleasure in uncovering the implicit. Especially when it makes the workings of power blatant in what we assume to be neutral language. It enables critique and for some of us who still believe in the potency of agency, it gives more room for agents' assertion of their selves. 
 There is a sense in which the hierarchical relationship between people and anthropologist cannot be escaped. In some ways, anthropology does grant you knowledge that you would not have otherwise achieved without the training. I am a local of a culture, tradition, religion and nation; a small place that has indeed been studied by anthropologists and part of a geographical area (the Mediterranean) which has caused a great deal of controversy about its stereotyping. As a local I am aware of my own almost-mantra like discourse that I produce; that of a local living in a post-colonial society living on the fringes of Europe, involving constant comparison between Malta and everywhere else, notable Europe and how Malta is unique in its absolute shitiness. Would I have become self-aware without anthropology?
It is hard to imagine a way where the ambivalent relationship between anthropologist and people can be fully egalitarian other than by developing at least a few honest genuine friendships. I'm sure Foucault would say that this ambivalent relationship cannot be escaped. I tend to agree, but perhaps constantly worrying about it makes the problem slightly more approachable.